ModWood XTREME GUARD®
ModWood XTREME GUARD® unique capping provides added durability, mould and mildew resistance and splinter free surface. The capped technology incorporates world's best engineering backed by the original Australian manufacturer of wood composite decking. There are five multi-chromatic colours with an enhanced real-wood look and the deep embossed grain producing a natural wood-like appearance. The capping is incorporated on ALL 4 faces making it super durable.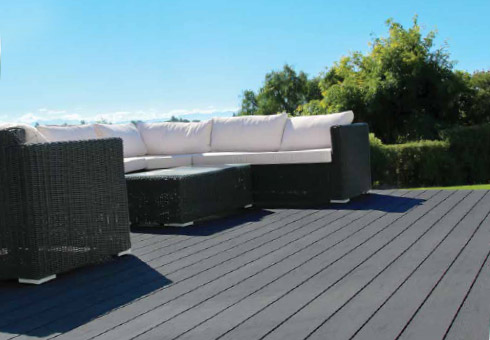 Manufactured to the highest achievable level of slip resistance P5 (AS 4586:2013), making it ideal for wet surfaces and commercial decks. Hidden fastening system for standard shaped decks and for irregular shaped decks, matching colour coated head screws makes installation easy and quick. Never have to sand, stain or oil the deck again ever! Simply wash down and occasionally sweep to maintain a beautiful deck.
ModWood XTREME GUARD® is the Ultra Low Maintenance decking solution! ModWood has a proven track record in Australia's harsh environment! Australian Made, Owned and Designed!Designed to use the Snap-LOC concealed fixing system. Colour coated screws available in packs of 100 and 350 for timber framing and packs of 100 for steel framing.
ModWood XTREME GUARD Documentation
ModWood XTREME GUARD Specification Table
    
ModWood XTREME GUARD
Traditional Timber decking
Fade, Stain and Scratch resisting
✔
❌
Ultra Low maintenance
✔
❌
Mould and mildew resisting
✔
❌
Won't split, rot or warp
✔
❌
No paint, stain or oiling
✔
❌
Long straight lengths with no defects
✔
❌
Splinter free
✔
❌
Highest achievable slip resistance P5
✔
❌
Unaffected by chlorine or salt water pools
✔
❌
Set length or Custom length packs
✔
❌
25 year* limited warranty for durability
✔
❌
25 year* limited warranty for fade and stain resistance
✔
❌
*Refer to website for warranty terms and conditions.
ModWood XTREME GUARD®
Colours and finishes
Colours shown here are approximate representations only. Colours may vary from batch to batch, however different batches of the same colour will weather to within a commercially acceptable tolerance.
Magnetic Grey

Koko Brown

Fire Brick

Golden Sand

Charwood