We provide composite privacy screens in Sydney, Melbourne, and Australia-wide
The modern lines of ModWood Mini board allow you to create a private oasis anywhere outdoors. Private courtyards, cosy outdoor living areas and stunning garden features can be created with this sleek designer product, adding contemporary style to your home without the initial preparation or ongoing maintenance needed by standard timber screening.
You can purchase our privacy screens in Brisbane, Melbourne, Sydney, and from stockists throughout the country.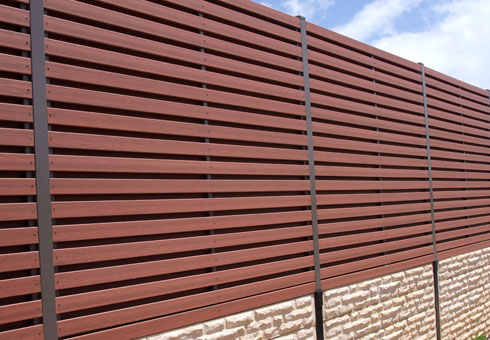 ModWood Mini board is extremely versatile, and can serve as either a subtle addition or a statement piece in any residential or commercial outdoor area. The ability of our composite fencing to withstand the toughest weather conditions – and resist termites – also makes it a fantastic, cost-effective alternative to using products from traditional outdoor timber screens companies.
Unlike conventional timber, ModWood does not require preservative coatings to maintain its appearance. This, and the fact that our products are made from recycled materials, means they are also the environmentally-friendly choice.
So next time you're looking for an outdoor timber screens company in Brisbane – or anywhere in Australia – choose one offering you a low-maintenance, high-performance composite product that saves you time and money in the long run.
ModWood Screening Documentation
ModWood Screening Specification Table
    
 
Mini Board
Dimensions
 
68 x 17mm
Standard length
 
4.8m
Spacing between vertical uprights
Continuous span (on edge)
 
800mm
Ground clearance
 
150mm
Weight
 
18.4kg/m2
Weight per lineal metre
 
1.4kg/lm
Fixing
 
nail/screw/gun
Secret fixing
 
not possible
Finish
 
smooth/embossed
 
ModWood Screening
Please note: due to the moisture normalisation of the wood fibres in the product, ModWood Mini board (screening) can in some circumstances show some deflection between the uprights. Click on the images below to enlarge.
To find your nearest stockist of our composite privacy fencing in Brisbane, Melbourne, Sydney – or throughout Australia – click on the 'Where to Buy' tab.
Weathering characteristics:- Natural weathering (sun and rain) will also get rid of unwanted tannin or water marks that can occur in the early stages of product weathering. This typically takes 6-8 weeks.Click on images below to enlarge.
|   |   |   |
| --- | --- | --- |
| Partial weathering | Further weathering | Fully weathered |
Partial weathering Further weathering Fully weathered ModWood Mini board can be 'bent' on the edge to a radius of 5 metres. This would make it ideal for garden edging. ModWood Mini board is available in smooth/embossed finish both faces only.
Even thou the mini board has been designed specifically for screening our other solid section decking boards maybe used in this application as well.
ModWood may be specified as a façade on buildings:
     - This could necessitate approval by a certified surveyor.
     - Please make contact with us for our fire test reports.
     - ModWood profiles are not apropriate for use as a cladding system. 
Note - ModWood Mini board must not be used for decking. See specification table.
Further technical information is availabe here; information.
Colours and finishes
Colours shown here are approximate representations only. Colours may vary from batch to batch, however different batches of the same colour will weather to within a commercially acceptable tolerance.
Sahara

Black Bean
Jarrah

Silver Gum