Sustainability
ModWood is leading the way with its low-maintenance range of wood composite decking boards, which are made from recycled milk containers and non-virgin pine products.
ModWood is committed to conserving the Australian environment. We use eco reclaimed pine  material to create our high-quality recycled decking; approximately 90 per cent of the material content of our decking boards is either recycled or reclaimed. Each lineal metre of ModWood decking board (137 x 23 mm) contains approximately 37 recycled plastic milk bottles and around two kilograms of reclaimed pine dust.
This dedication to developing a high recycled/reclaimed content decking products has seen us emerge as a leader for recycled decking in Sydney, and Australia-wide.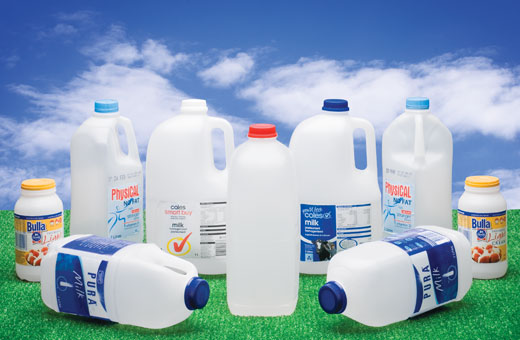 ModWood and the Environment
ModWood's use of non toxic decking materials makes our products particularly suitable for ecologically sensitive areas, as they contain no nasty chemicals that could leach out. The environment doubly benefits, as the product uses recycled and waste products which would otherwise be squandered, potentially ending up as landfill.

The pine dust used within our decking boards is a by-product of timber milling. By using this reclaimed eco building material, we are conserving our precious native forest timbers, and making positive inroads to reducing habitat degradation and demand for virgin materials. The pine we use comes from AFS (Australian Forestry Standard) certified plantation-grown, sustainably-managed pine. And as ModWood requires no painting, staining or oiling, potentially polluting preservatives are also avoided.
GreenTag™ Certified
GreenTag™ is a third party, green building product rating and certification system, underpinned by rigorous scientific and Life Cycle Assessment (LCA) processes. ModWood was certified in June 2015. A GreenTagTM LCARate award indicates that a product is in the top 25% of its market category.  The GreenTag™ rating positions a product within the top end of the green product market enabling manufacturers to be able for the first time to fully communicate the work they have undertaken to improve the ecological and health benefits of their products. GreenTag certification of ModWood means the design and build communities can be assured of the eco-benefits of a trusted & proven brand.  ModWood Decking holds Global Green Tag certification; this may be viewed at ModWood Global GreenTag™.
ModWood also holds EcoSpecifier accreditations.
Green Building Council Member
Our proprietary world class formulation means there are no formaldehydes used in the production of ModWood, and there is no noticeable Volatile Organic Compounds (VOC's) after processing. ModWood is a member of the Green Building Council of Australia (GBCA), which was established in 2002, to develop a sustainable Australian property industry and drive the adoption of green building practices through market-based solutions.
Environmental Innovations
We supply our non-toxic, recycled decking in Melbourne and all capital cities and regional areas. We are Australia wide and the original Australian wood composite manufacturer. Click on the 'Where to Buy' tab to find out more.
ModWood Technologies win Premier's Innovative Products Sustainability Award
ModWood® were the surprised and proud recipients of the Premier's Sustainability Awards 2013 for the bushfire-resistant decking product, Flame Shield®.

ModWood Flame Shield® decking is a wood-plastic composite designed and manufactured in Victoria, suitable for use in high risk bushfire-prone areas up to and including Bushfire Attack Level 40 (BAL 40) - extreme bushfire conditions.  Other BAL- 40 decking materials on the market are only available as aluminum or steel products.

Sustainability Victoria CEO, Stan Krpan, congratulated the ModWood team for their innovative work in developing and marketing Flame Shield®.

"ModWood Technologies make Flame Shield® using 90 per cent reclaimed and recycled content, recovering resources from waste streams. Significantly, product life in service also exceeds alternative hardwood products.

"ModWood is a great example of a Victorian business responding to increasing demand for clean and green products," he said.

Now in their eleventh year, the Premier's Sustainability Awards celebrate efficient use of water, resources and energy, better waste management and recycling practices, the enhancement of the environment and effective, practical community action.

Overall winner for the night, recipient of the Premier's Recognition Award, was a project by Moonee Valley City Council and Wingate Avenue Community Centre for introducing recycling to a community housing estate. (E.D. recycling provides ModWood with its sustainable materials.)

For the first time, the inaugural winner of the Premier's Regional Recognition Award was Victoria Carpets. Further reading at www.sustainabilityawards.vic.gov.au.