ModWood: your composite decking company in Sydney and Australia-wide.
ModWood's composite decking comes in a range of sizes, colours and finishes, giving you the ability to create residential or commercial projects that combine function and style.
ModWood is versatile, easy to install, and looks great in any setting. Whether you are using it for pool decking, patio decking, or for a large entertaining platform, it will add definite sophistication which is long-wearing, safe and eco-friendly. And because it is splinter-free, it is also safe for use with children.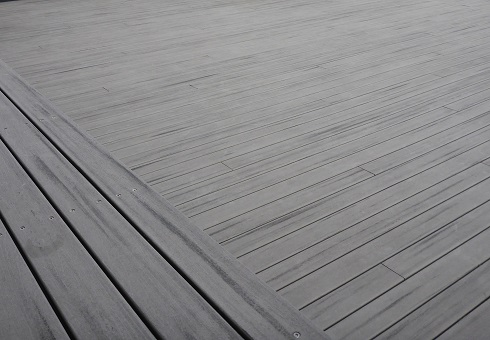 Our boards' durability and resistance to the toughest Australian weather conditions make them a great, low-maintenance alternative to conventional timber – and one which can save you significant time and money over time.
So if you are looking for a garden, entertainment area, patio or pool deck company in Sydney and Australia-wide ModWood is the obvious choice.
ModWood wide-boards are manufactured to R11, AS 4586:2013
ModWood Decking is GreenRate Level C certified by Global GreenTag™; further technical information is availabe here; information.
ModWood Decking Documentation
ModWood Decking Specification Table
    
Wide
 
Narrow
Dimensions
137 x 23mm
 
88 x 23mm
Standard length
5.4m
 
5.4m
Joist centres
450mm *
 
450mm *
Ground clearance
Clearance over concrete
300mm
50mm
 
300mm
50mm
Weight
26.2kg/m2
 
25kg/m2
Weight per lineal metre
3.7kg
 
2.3kg
Fixing
nail/screw/gun
 
nail/screw/gun
Secret fixing
possible
 
possible
Finish
smooth/brushed
 
smooth/brushed

Maximum Overhang or Cantilever                    70mm +                                            45mm  

 

* Depending on the concentrated load (kN) this may be reduced.
   Contact ModWood directly for a deflection calculation.

+ Information on Flame Shield® varies; please refer to the relevant page.

     
ModWood Decking
Our solid section board is specially formulated for higher strength and has superior moisture-resistant properties. This allows the board to span up to 450mm joist centres in residential applications.
For commercial applications the 137x23mm boards are more suitable as they have an anti-slip rating of R11. Note that depending on the concentrated load (kN) joist span may be reduced. Contact ModWood directly for a deflection calculation.
The solid board can be 'bent' on edge to a radius of 5m, which makes it great for use as garden edging. Please note that the solid decking boards can be used for screening with a maximum span between uprights of 1500mm on a continuous span (on edge).
Refer to the following link for all other Installation scenario's
Information for using ModWood and the KlevaKlip System can be found at the KlevaKlip website.
To find out about our stockists throughout the country, click on the 'Where to Buy' tab.
Colours and finishes
Colours shown here are approximate representations only. Colours may vary from batch to batch, however different batches of the same colour will weather to within a commercially acceptable tolerance.
Sahara

Black Bean

Jarrah

Silver Gum